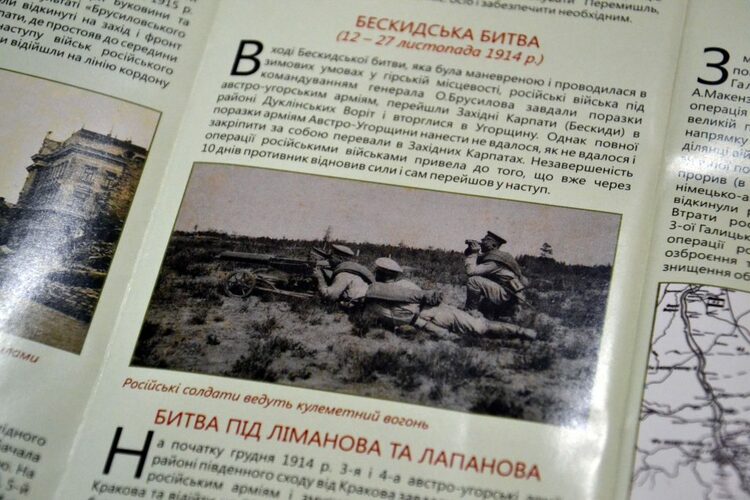 On the 26th of November an international scientific-practical conference "Ukrainian-Slovak military units of the Austro-Hungarian army in the Great War: on the way to independence" took place in Ivano-Frankivsk.
Two dozen scholars from Ukraine, Slovakia, the Czech Republic and Romania presented their researches during the event, some of which were focused on the state and law in Eastern Galicia during the war, as well as military action in Precarpathia during World War I. The state of military burials of World War I in Precarpathia was also analyzed during the scientific event.
Therefore, the rector of the Precarpathian University Ihor Tsependa said welcoming its participants: "This conference is not just a formal historical one, it has a deep meaning".
"Mankind did not draw conclusions from World War I, from this great lesson for civilization, and 20 years later began an even greater war. Today we are talking about the Brotherhood of Arms when we study Ukrainian-Slovak military relations during World War I. At the same time, we say that we need to honour the places of remembrance of those who fought against us, who were our enemies, because places of remembrance and cemeteries should not be places of hatred, but of reflection on how to avoid and prevent war, to warn the aggressor not to take any steps to start a war" said Ihor Tsependa.
The Rector also thanked the conference organizers for creating a scientific platform for in-depth research, namely Ivano-Frankivsk Regional Council Chairman Oleksandr Sych for his systematic assistance to historians of Precarpathia and Ukraine in implementing such projects. Igor Tsependa also thanked the Deputy Plenipotentiary and Ambassador Extraordinary of the Slovak Republic to Ukraine Matusz Korba for participating in the conference, as the participation of diplomats in such events shows that this is the state policy, which is very important.
"Ukraine and Slovakia are very close states", said Matus Korba, "restoration of places of historical memory for both Ukrainians and Slovaks is very important, so it is very gratifying, said the diplomat, that there are enthusiasts in Precarpathia who began to deal with this issue much earlier than the state.
"In Slovakia, the issue of restoring military burials has been raised quite recently. After joining the European Union, the Slovak state began to pay more attention to this topic. The Embassy of the Slovak Republic in Ukraine, the Ministry of Foreign and European Affairs and the Ministry of Internal Affairs will be happy to support such public initiatives in Ukraine, as well as cooperation at various levels – universities, organizations, authorities, which will improve the situation with military cemeteries", he mentioned.
The conference was organized by the Department of Theory and History of State and Law and the Department of History of Central and Eastern Europe and Special Branches of Historical Science of Vasyl Stefanyk Precarpathian National University, municipal enterprise of Ivano-Frankivsk regional council for search and reburial of victims of wars, deportations and repressions of totalitarian regimes "Memory", municipal enterprise "Space of Innovative Creations "Palace"".
"The purpose of the conference is extremely noble – to honor the victims of those wars", said the chairman of the Ivano-Frankivsk Regional Council Oleksandr Sych. "The topic of memorialization of war victims will always be relevant. In the 20th century, two great wars swept through our territory, including Precarpathia and Slovakia, and we still have many tasks ahead of us".
Slovak scientists say they have fifteen-year experience in Slovakia, so they don't mind sharing it with Ukrainian scientists and researchers. They would also like to know about the places where their ancestors fought in Ukraine and help their Ukrainian colleagues to restore World War I graves in Ukraine. Many Slovaks who died in that war are buried there.
"One of such destroyed burials", said Doctor of History, Professor Sergii Adamovych, "was recently discovered by representatives of ME "Memory". This burial is located on the territory of Yamnytska community near Pavlivka Ivano-Frankivsk region.