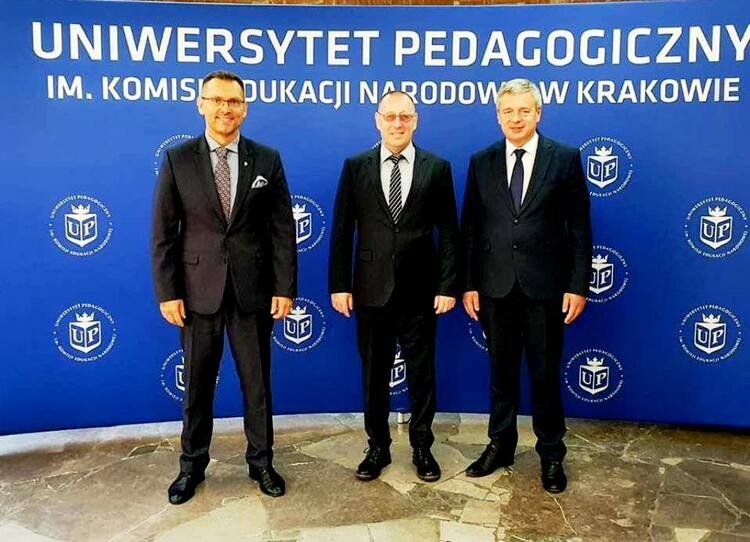 On Monday Rector of Vasyl Stefanyk Precarpathian National University came to Krakow (the Republic of Poland) on a working visit. Together with Consul General of Ukraine in Krakow Viacheslav Voinarovskyi, he held a number of meetings, including the one with Piotr Borek, rector of the Pedagogical University of Krakow.
The parties discussed the issue of returning to bilateral cooperation, ceased due to the pandemic. They agreed on joint master's degrees for students of pedagogic specialties. Another point for discussion was devoted to cooperation in the sphere of astronomy, taking into account the opening of the International scientific center
"Observatory" on Pip Ivan Mountain.
Another meeting was held with Prof. Klemens Budzowski, rector of Andrzej Frycz Modrzewski Krakow University. They discussed the problem of joint online studying projects and student exchange project in light of establishing the International center for students and youths from Ukraine and Poland.
Ihor Tsependa held a meeting with former ambassador of Poland to Lithuania, professor Jan Widacki, concerning joint degrees in law and implementation of projects in the sphere of forensics.
This day Rector had his first visit to Krakow university of Economics, where he met rector Stanislaw Mazur and discussed possible cooperation on supporting joint territorial communities in Ukraine, familiarized with the program of joint and ternary degrees between Krakow university of Economics and the EU and US universities.
The agreement has been achieved on further education and scientific cooperation.